We Buy Fountain Houses
If your thinking about selling your Fountain house or If your simply asking, how to 'Sell my House?' and want to sell your house fast, for cash, with no cost (closing costs) to you, then you've come to the right place.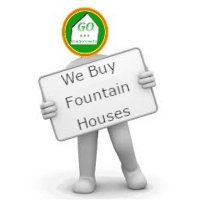 Houses We Buy
You can sell your house to Go Realty Go Property (GRGP)! We can Buy Houses, on average, within 5-9 days. GRGP is a Direct Local Fountain House Buyers and buy houses throughout the surrounding areas to include fair cash offer(s) (pay cash). GRGP has purchased $Million's of property within Colorado to include buying houses in Fountain. GRGP buys homes as-is without the need for you to clean and/or remove/haul unwanted items away. We are a no hassle/pressure Investment Company that strives for a win/win in every offer on your house and can close with an agent or without a real estate agent, in 2-hours, 30-Days, or on the Date of Your Choice. GRGP uses our own funding and rehab crews; therefore, no contingencies or inspections are required for us to buy houses with a fair all cash offer.
We Buy Fountain Houses
We Buy Fountain Houses: all types of houses (Condos, Town-homes, Single Family), houses in any condition (Pretty or Ugly), houses in any situation (broken or unwanted property), and houses as-is (estate agent / estate solutions). We make FAIR all Cash Offers for buying Fountain, Colorado Houses. Simply, we buy fast for cash and close quickly (normally when it's convenient for you).
Why "Go Realty Go Property"…
Other
Real Estate
Go Realty
Go Property
Sell As-Is
Fast Offers
No Fees
No Closing Costs
No Repairs Needed
Sell House Fast
Date of Your Choice
Fountain Houses
Current Areas of Interest in Fountain, Colorado (Zip Codes: Below):
Bradley and Main St
Crawford Ave
Fountain Mesa Rd / Fontaine Blvd
Mesa Ridge Pkwy (North/West)
Bradley and Grinnell St
Fontaine Blvd / Grinnel St
Fountain Mesa Rd / C&S Rd
But not limited to…
We Buy (Conditions…)
Damage: Pest/Fire/Storm
Full of Stuff/Trash
New/Old/Ugly House
Outdated
Repairs: Major/Minor
Tenant Problems
But not limited to…
We Buy (Issues…)
Absentee Owner
Code Violations
Family Issues:

Divorce
Separation
Marriage

Financial:

Job Loss/Relocation
Low Equity
Liens
Late Payment

Hoarder House
Title Issues
But not limited to…
NOTE: Privacy Policy applies to all Issues.
Houses We Buy (Reasons…)
Bankruptcy/Short-sell
Family Issues
Foreclosure
Health
Relocation
Repairs: Minor/Major
Size: Up/Downsizing
But not limited to…
Frequently Asked Questions…
---
Request CASH Offer (<1 Min)
Quick Quote (CTA)
"*" indicates required fields
---
As-Is, Fair Price, & Close Date of Your Choice.
Request our Quick Quote Today!
Guaranteed…
No Hassle, No Obligation